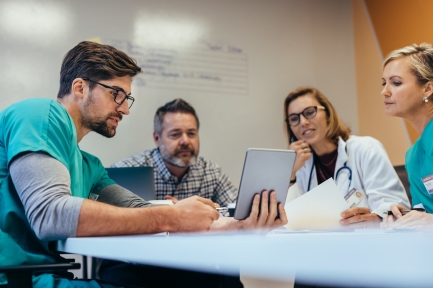 The American Medical Association (2013) recognizes obesity as a disease that requires a range of medical interventions. Health problems, such as diabetes and cardiovascular disease, require the specialized, often individualized, care of a healthcare professional. This is why one- size-fits-all approaches to weight loss and weight maintenance often don't result in long-term success. Research has shown that physician- supervised weight loss programs are an effective way to lose weight and maintain that weight loss over time (Jensen et al., 2013).
Developed and administered by healthcare experts, the physician-supervised Medi-Weightloss® Program is evidence-based to result in a successful lifestyle change. When administering the treatment, Medi-Weightloss® healthcare providers take each patient's unique health profile into account, which is what makes us The One that Works!® In fact, our patients have lost over 6 million pounds nationwide since 2006.
Backed by evidence-based practices researched and supported by clinical outcomes Medi-Weightloss® has been changing lives for over a decade. You might be wondering how we stand out in a highly competitive market, where diets and fitness regimens are a dime a dozen.
Our answer is simple; we have a team of medical professionals working to create quality products and services that make losing weight easy and maintainable. Our franchisees receive an effective and successful turn-key business model that is not only bettering the lives of thousands but remains lucrative. Our medical team is continuously researching and developing new and effective weight loss strategies. Our tests and results are so well known, we were invited to present at the World Obesity Conference in 2014.
Contact us now to find out how you can change your life as well as those in your community!
REFERENCES
American Medical Association (2013, June 18). AMA adopts new policies on second day of voting at annual meeting.
American Medical Association.
Jensen, M.D., Ryan, D.H., Apovian, C.M., Loria, C.M., Ard, J.D., Millen, B.E., ... & Yanovski, S.Z. (2013).
2013 AHA/ACC/TOS Guideline for the Management of Overweight and Obesity College of Cardiology, doi:10.1016/j.jacc.2013.11.004